SCLnow® Five-Line Graph
The five core businesses of SCLnow® can correspond to the five-line system of Taoism. SCLIC® Life Energy Bank is "Gold"to amass wealth of life resources; SCLGL® Regenerative Medicine Space is "Wood"to Generate technological strength; SCLIC® Life Energy Station is "Water" to nurture vitality of life; SCLPF® Factory is "Fire" to imply "True gold does not fear fire";SCLCC® Regenerative Medicine Cloud Center is "Earth" to enrich the soil.
The "Five-Line Graph" runs around the center of"SCLnow® Purple Ribbon Public Welfare", which is the "Sun and moon"
The five-line system of SCLnow®, with the Sun and Moon as its core operation,is interlinked and interrelated. This explains the coincidence between the SCLnow® business system and the trajectory of life.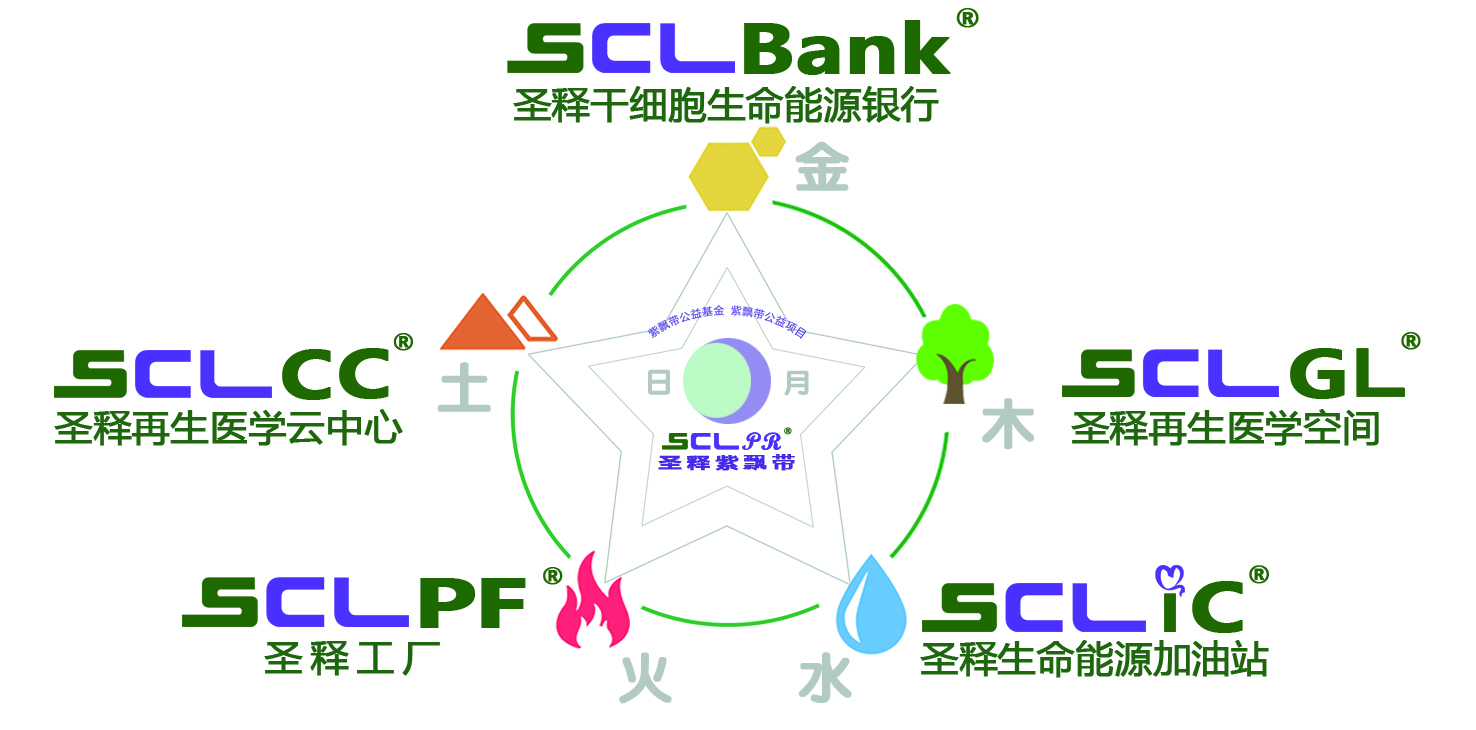 SCLnow® relies on patented technology and innovative business model of umbilicalcord mesenchymal stem cells to carry out business operations and industriallayout in the world through a modern management model of big data and cloudplatform. At present, regenerative medical parks have been built in Beijing,Qingdao, China, and Prague, Czech Republic, Jilin, Kunming, Hong Kong, ShanghaiEtc. Domestic branches and subsidiaries have also been set up in Changsha,Sichuan, Henan, Inner Mongolia, Guangzhou and other places.In the CzechRepublic, the United States, Japan, Singapore and other countries, overseasbranches have been established, bringing SCLnow® a leading positionin the strategic layout of the global market.
Working with SCLnow® will enhance technology in the field of stem cells
We think Guo Lei is a leading expert in the field of stem cells.He is a rigorous clinician. He concentrates on stem cell translationalmedicine, regenerative medicine and personalized precision medicine, andbrings  benefits to mankind.